STEAM BCAA™
MSRP for 30-serve: $44.99
MSRP for 75-serve: $89.99

INTRAWORKOUT AMINO
AT A GLANCE (1)
6 g BCAAs.
2:1:1 ratio – leucine, isoleucine, and valine.
1 g l-glutamine.
1 g l-citrulline compounds.
Added electrolytes & vitamin B6.
No banned substances - safe for sport.
USAGE
During workouts.
Insights
About one third of skeletal muscle – the type that flexes and gets stronger when you exercise – is made up of branched-chain amino acids (BCAAs). So it shouldn't be that surprising to learn that athlete's requirements for leucine, isoleucine, and valine are higher, or that supplementing with these key aminos has been scientifically demonstrated to improve performance. *
STEAM BCAA helps you train longer and supports recovery with a kick-in-the-glutes combination of BCAAs (popular 2:1:1 ratio), plus added glutamine, citrulline, electrolytes, and vitamin B6. No banned substances or added sugar simply ensures training harder is also training smarter. Never run out of STEAM. *
*These statements have not been evaluated by the Food and Drug Administration. This product is not intended to prevent, treat cure or prevent any disease. (1) Per serving. Information may vary by flavor. Refer to nutritional, ingredient, and allergen information for complete details.
DIRECTIONS
Add 1 scoop of STEAM BCAA to a large glass or shaker cup filled with 10 ounces of cold water. Stir or shake for a few seconds until powder is fully mixed. Drink. Tip: Shake gently to minimize foaming.
BEST TIME TO USE
Intra-workout (sip during workouts).
STACKS WELL WITH
POWDER BURN 2.0™, CRE-ELITE5™, COMPLX5™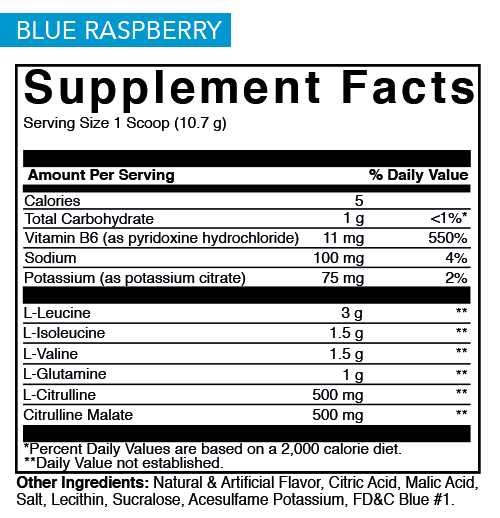 11 Reviews
Great taste and mixes very well!

Posted by Tyson Erskine on May 13th 2020

Tastes great and very easy to mix! Nice and refreshing

Steam BCAA watermelon

Posted by Jeff on Dec 18th 2019

Dissolves well and watermelon is the best flavour BCAA myself and my wife have had. Please continue this flavour!

BCAA

Posted by Shawn Turney on Nov 4th 2019

A fast mixing product with great taste. Giving you a nice boost to push through your workouts.

Bcaa

Posted by Maxime on Apr 25th 2019

Good taste and great formula. I love the fact that there's no stimulant added to it. I train late at night and I got to control the quantity of stim I take before training if I want to be able to sleep after lol. Great price too for the quantity.

Green Apple

Posted by Anthony De Matteis on Apr 5th 2019

This new to me flavour is a good one. I will reorder when the time comes.

Orange BCAA

Posted by Lewis Ward on Feb 3rd 2019

Great tatsting. This and green apple are at the top of my list

Lewis Ward

Posted by Lewis Ward on Dec 18th 2018

Great taste. Not too sweat. Perfect flavour. Doesn't leave that chalky feel after taste. Great product. I have both green apple and blue raspberry. Both are amazing

Strange flavour

Posted by Unknown on Apr 23rd 2018

Watermelon flavour a bit strange. Not very strong, and leaves a strange aftertaste. Would not get watermelon again.

Fuels all day

Posted by Kat on Feb 27th 2018

I sip on it through out the day and it keeps me satiated and energized between meals. It saved me a ton when I planned my day poorly. Orange tastes great!