POST-RX™
MSRP for 45-serve: $49.99
TRAINING RECOVERY MATRIX
AT A GLANCE (1)
2.5 g l-leucine.
2.5 g l-isoleucine and l-valine
1.5 g l-glutamine.
Trimethylglycine, turmeric, quercetin, and boswalla.
No banned substances - safe for sport.
USAGE
After workouts.
Insights
For athletes, the period beginning immediately after the workout ends is widely considered to be the most important meal of the day (sorry breakfast). During this so-called "post-training window" conditions are optimized for nutrient uptake and utilization to help maximize muscle replenishment and repair. *
The diehard believe that there is no overtraining – just under-nutrition and under-recovery. POST-RX™ helps protect against the latter with 6.5 grams of free-form aminos plus a 750 mg recovery complex containing trimethylglycine (betaine), turmeric, quercetin, and boswalla. Use a scoop of POST-RX™ immediately after training and follow-up with some solid macros (protein, complex carbs, healthy fats) about an hour later for maximum muscle potential at your next workout. *
*These statements have not been evaluated by the Food and Drug Administration. This product is not intended to prevent, treat cure or prevent any disease. (1) Per serving. Information may vary by flavor. Refer to nutritional, ingredient, and allergen information for complete details.
DIRECTIONS
Add 1 scoop of POST-RX™ to a large glass or shaker cup filled with 10 ounces of cold water. Stir or shake for a few seconds until powder is fully mixed. Drink. Tip: Shake gently to minimize foaming.
BEST TIME TO USE
Post-workout (immediately after training).
STACKS WELL WITH
POWDER BURN 2.0™, CRE-ELITE5™, COMPLX5™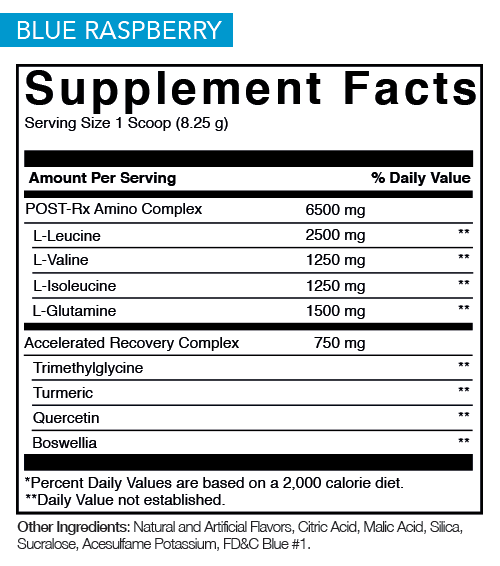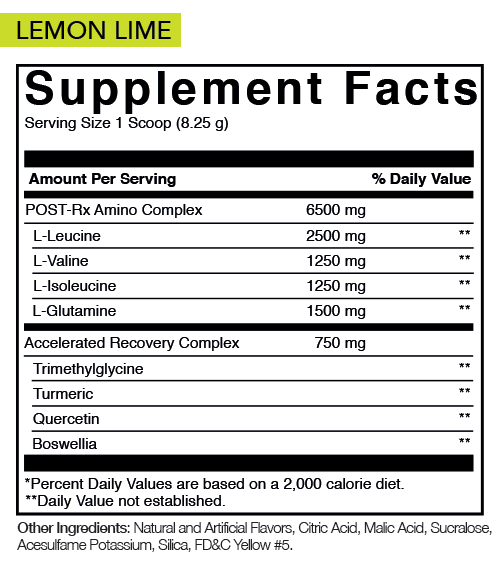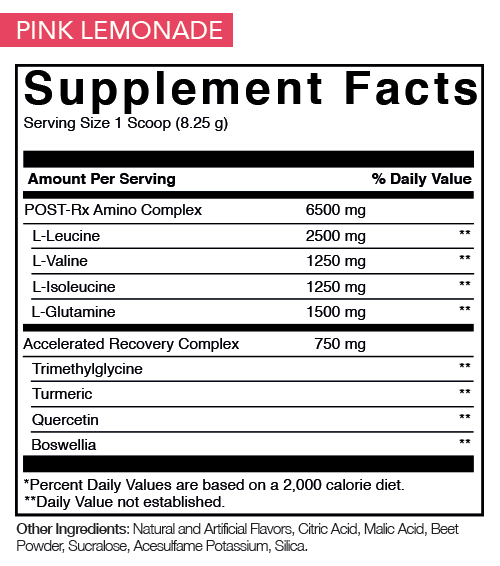 3 Reviews
Amazing taste + formula

Posted by Joey S on Oct 2nd 2019

An essential product in my regimen. My muscles feel like they recover the fastest when I use this product compared to other BCAAs I've tried. The taste is amazing, the powder breaks down easily after a few shakes and the ingredients are top quality. I'll never stop using this product!

Fantastic Product

Posted by Joey on Apr 11th 2019

I've been using this product for over a year now and there's nothing like it. Solid ingredients, great taste, it's a staple in my regimen.

favorite post workout drink

Posted by Unknown on Jul 25th 2017

Rivalus post rx flavours are delicious and very effective. I have to have my post rx after my workouts otherwise I won't be able to get out of bed the next day.