CRE-ELITE5™
MSRP: $49.99
5-CREATINE STACK
AT A GLANCE (1)
5 powerful creatine sources.*
Supports workout capacity and lean body mass.*
Just 10 calories & 2 g carbs.
0 g sugar.
No banned substances - safe for sport.
USAGE
After workouts.
Insights
First introduced over 20 years ago, creatine remains one of the most popular sports nutrition supplements to this day. The reasons why are simple: it's well researched, has a strong safety track record, and most importantly, it works.*
CRE-ELITE5™ is for athletes looking to squeeze every ounce of power out of their workouts. This elite complex delivers over five grams of creatine compounds to help boost lean body mass, training intensity, and muscle strength and power – without banned substances! * Almost as impressively, it does its work without any sugars and just 10 calories.
*These statements have not been evaluated by the Food and Drug Administration. This product is not intended to prevent, treat cure or prevent any disease. (1) Per serving. Information may vary by flavor. Refer to nutritional, ingredient, and allergen information for complete details.
DIRECTIONS
Add 1 scoops of CRE-ELITE 5 to a glass or shaker cup filled with 10 ounces of cold water. Stir or shake for a few seconds until powder is mixed. Drink. Tip: Try mixing with fruit juice for better uptake.
BEST TIME TO USE
After workouts.
STACKS WELL WITH
POWDER BURN 2.0™, STEAM BCAA™, CLEAN GAINER™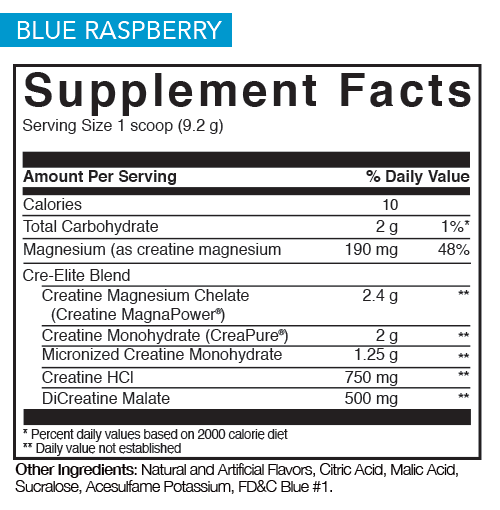 3 Reviews
CRE-Elite5

Posted by Anthony on Aug 10th 2018

I have only tried one other brand before this so my base of comparison is small, but this one give no digestive problems. Does everything the internet says about creatine, including helping mental health.

Creatine

Posted by Anthony on Jan 29th 2018

Good flavor and the product makes a difference for me. I wish it would mix better.

Tastes Great!

Posted by Hunter Bosch on Dec 19th 2017

I ordered the Blue Raspberry a while back and it tastes awesome. If you like the blue Jolly Rancher then you'll love this flavour. I also combine it with my BCAAs, which are Watermelon flavoured. Combining the two products tastes like grape!